Stay Updated With the Latest Product News From Brivo
Want to learn more about our latest updates?
Move your legacy on-premise access control management system to the cloud and experience the power of simply better security.
Brivo announces the release of Brivo Mercury Solutions, consisting of a complete line of Mercury-based controller, door and I/O hardware, a Brivo-hosted provisioning tool that easily and affordably converts existing Mercury controller boards to work in the Brivo Access environment, and a dealer Toolkit to make Mercury takeovers easier than ever.
Brivo Access Summer 2023 New Features
This summer marks several significant improvements to the Brivo Access platform.
License Plate Credentials
In partnership with Eagle Eye Networks we are pleased to announce License Plate Credentials to deliver a fast, frictionless entry through secure gates by using a vehicle's license plate. Included in Professional and Enterprise versions of Brivo Access and as a subscription for Standard edition users.
Monitored Devices
This new feature allows users of Brivo Access to register events in Brivo Access that are not access controlled doors, including sensors for doors, such as emergency exits, windows, environmental sensors, and more.
Improved Scheduling
Is a continuation of the improvements being made to Brivo Access to allow Admins to more easily view, create and modify door schedules and exceptions to door schedules.
Shared Access
Is a feature in Brivo Enterprise Edition that allows seamless group access sharing between Brivo Accounts and is perfect for multi-tenant environments to allow granting access to building entrances and common areas.
Recorded Video
This new feature in Brivo Access allows users that have cameras connected to their Brivo system to be able to view recorded clips from within the Brivo Access interface.
New Features in Brivo Access
Brivo continues to improve Brivo Access with new features, including:
All Access Editions
Enhancements to Custom Fields that allow admins to better define and sort credentialed users to suit their needs
For Professional and Enterprise Editions
Expire Unused Credentials to allow admins to automatically revoke credentials that have been unused for a specified period of time
Access Commands which allows certain users to use their credentials to swipe a reader to trigger a relay, for example, to arm/disarm an alarm system
For Enterprise Edition, only
Occupancy & Usage data sets in Data Explorer that allow admins to leverage advanced reporting capabilities with preconfigured and customizable data sets and graphs
Employee Badge in Apple Wallet Now Available From Brivo
Get in faster with iPhone and Apple Watch. Access your corporate space with your employee badge in Apple Wallet—from doors and elevators to turnstiles and more.
Just hold your iPhone or Apple Watch near the reader to unlock. No need to unlock the phone or open up an app.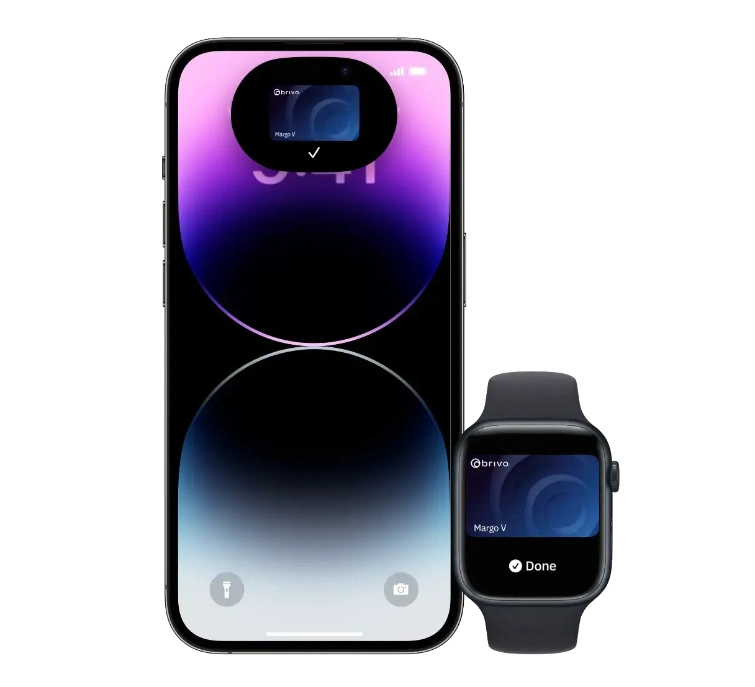 Brivo announces the release of the B-ACS-SDC-E, Single Door Controller
This new product is designed for single door applications and only requires an Ethernet connection for installation. The controller is designed to be recess mounted in a single-gang electrical box and comes with a white blank cover to complete a clean installation.
The B-ACS-SDC-E is OSDP compatible and is ideal for use with Brivo Smart Readers to provide full use of Brivo Mobile Pass, Brivo Unified Credentials and Smart Cards. Each controller supports two readers for in/out or anti-passback control, as well as power for a door lock and two auxiliary outputs.
Create a Brivo Mobile Pass Account and Empower your Brivo Mobile Pass Experience
Brivo has improved the Brivo Mobile Pass app by giving you the ability to connect your mobile pass credentials to a valid email account.
Create an account, sign in, and all of your current mobile passes, door favorites and app preferences, are connected to your new account, not your smartphone.
When the inevitable happens and you have to replace your smartphone, for any reason, simply log in to the Brivo Mobile Pass app account from your new device and all mobile passes, door favorites and preferences are immediately restored.
Simply download or update to the latest version of the iOS or Android app, sign up, log in and start enjoying the power of your new Brivo Mobile Pass experience.
Powerful New Features in Brivo Access
Brivo Access now includes the ability for administrators to see Recent Event Logs, which provide a snapshot of an individual's most recent activity.
Built-in security cameras connected to Brivo Access events may be seen live. Standardized event labels help the industry differentiate between events. This Spring's updates include German language support.
Brivo Access users may now manage their Brivo Smart Home accounts from within Brivo Access, removing the need for two apps. Voice control is available in Brivo Smart Home for Alexa-enabled devices connected to a Brivo Gateway.
Introducing Brivo Unified Credential
Discover the smart way to eliminate insecure proximity cards, combine credentials to a single key card or fob, and improve site security across Brivo readers and select Allegion and ASSA ABLOY locksets.
To learn more about Brivo Unified Credential: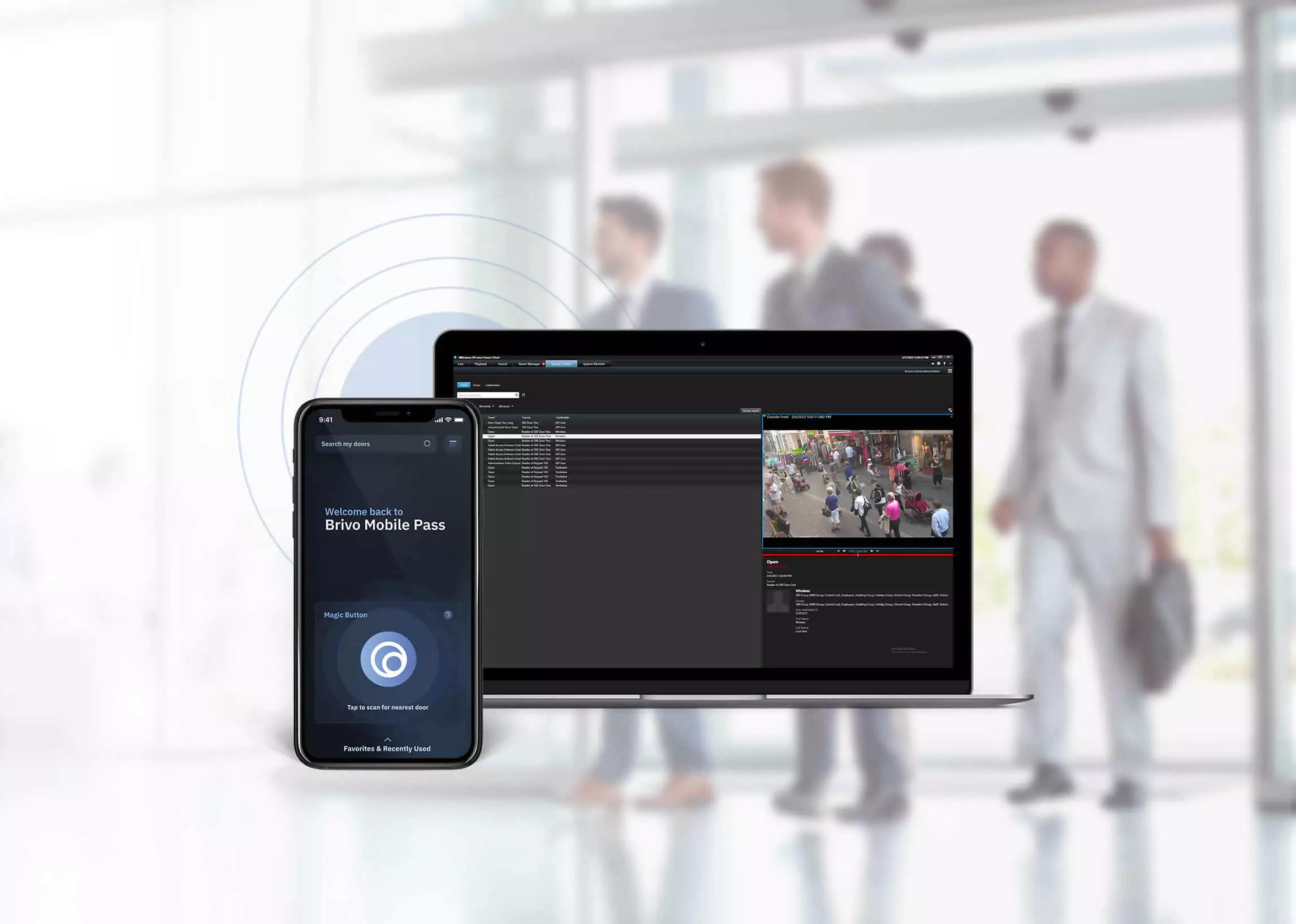 Brivo Access is Now Integrated with Milestone XProtect Video Management System
The Brivo and Milestone integration combines video surveillance and cloud-based access control so you can connect entries and video feeds in real-time within Milestone XProtect. Brivo Access events are made available within Milestone XProtect along with management capabilities to view users and events, open and lock entryways, alter door override schedules, and view video feeds in XProtect.
New & Improved Brivo Mobile Pass App

Brivo Mobile Pass now has a faster, more intuitive user experience for both Android and iOS users. Navigation, searching and favoriting doors is now easier than ever. Key updates include:
New simple navigation
Enhanced search and filtering
Bigger and better Magic Button
Fast access to favorites and recently used doors
Find out more about the updated app here:
Introducing the New Brivo ACS6100 Control Panel

Brivo ACS6100 Control Panels are key components of your Brivo access control platform. This new control panel increases capacity for accessory boards, enhances security with OSDP, remote firmware updates, and allows for modular growth.
Read all about the new Brivo ACS6100 control panel and associated components here:
Brivo Expands Power Supply Options with Altronix Trove Partnership

Brivo announced a new collaboration to broaden our hardware ecosystem with Altronix, an established pioneer in low-voltage power and data transmission products for professional security applications. Altronix power solutions are now integrated with Brivo control panels and allow customers and partners additional flexibility in powering Brivo Access control solutions.
Introducing Brivo Snapshot: Create insights from the fusion of video and access event data
Brivo is introducing new advanced capabilities to simplify access control once again. Brivo Snapshot is a brand-new AI-based capability that speeds the review of visual event information using machine learning to fuse video and event data into a single frame. Customers get a visual record of all entry events across their business as well as instantly confirm that a person entering a space with a credential is actually the person that the credential belongs to with a photo album view of their access events.
Introducing the Brivo Smart Reader
Brivo Smart Readers are our newest readers and are available in various options including modern black and white models. These readers are compatible with Brivo mobile credentials and other encrypted smart cards.
Improving Security and Promoting Facility Wellness with Brivo Visitor
Make the Best First Impression While You Protect Everyone in Your Duty of Care.
Implement an easy to use solution for visitors and deliveries that promotes facility safety and wellness. Automate the sign-in experience, allow visitors to accept or deny your company policies, ask custom visitor questions and print visitor badges.
Offering a Secure Self-Guided Tour to Lease More Units
A Fully Integrated Access Control and Self-Guided Tour Solution.
Offer prospective residents the convenience of a self-guided tour while the property stays secure with cloud-based access control. With Brivo Smart Apartment, the experience of showing available units just got a lot easier, safer and more convenient.
Expanding Identity Management Integrations to Include Okta, Azure Active Directory and G Suite
Brivo Is a Seamless Part of Your
Identity Management Network.
Add, modify or deactivate Brivo users in Okta, Azure Active Directory or G Suite so the right people always have the correct access to your facilities. Our integration also offers single sign-on to easily and securely access Brivo from your Azure or Okta platforms.
Growing Our Mercury Panel Support
Have the Flexibility to Use Mercury Panels with the Brivo Physical Security Platform.
Add new Mercury panels that are pre-installed with Brivo certificates for a simple connection or easily upgrade existing panels to connect to Brivo. Preserve your system investments by easily integrating Brivo and Mercury to create the platform you need.
Call now to speak to an expert: 833.GO.BRIVO